North London Tutors
Our North Finchley tuition centre is based in the grounds of St Michael's Catholic Grammar School, close to Woodside Park tube station and the North Circular. Free parking is available on site.
Book a free trial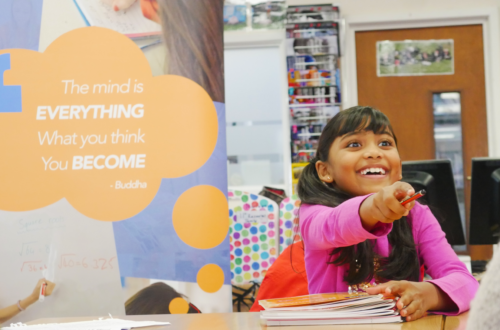 How can we help?
At Vaks North Finchley, children are placed at the centre of their own learning. They are continuously praised and motivated through our interactive teaching methods, which are engaging, enjoyable and above all, fun.
We tutor children aged between 4 and 18 years old, with tailored programmes covering maths, English and science. We also offer expert tuition designed to prepare your child for KS1 & KS2, 11 Plus and 13 Plus exams, SATs and GCSEs all designed to meet the individual needs of your child.
Find our North Finchley Centre
At our tuition centre, we provide specialist tuition for children aged between 4 and 18 years old in the core subjects of English, maths and science.
Centre Information
St Michael's Catholic Grammar School
Nether Street
North Finchley
London
N12 7NJ
Tuesdays 4.15pm – 6.15pm, Saturday 9am – 1pm team@vaks.co.uk 0800 404 8172
You're in excellent hands 🙌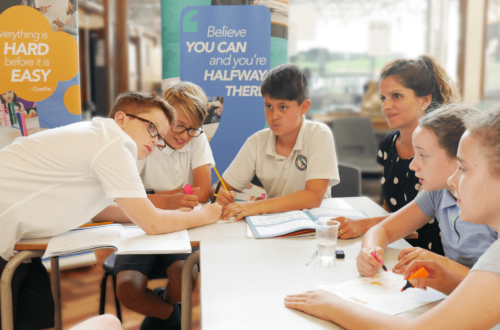 Why choose Vaks?
Whatever stage your child is at, our tuition can provide your child with the skills to really make a difference.
Our tailored approach means we can support children of all abilities. Whether gifted and talented, in need of consolidation, a short term confidence boost or support with special education needs, at Vaks we offer programmes to suit every student.
We know that every child is an individual with their own way of learning. Vaks tuition will make a significant long term difference. Our tailored approach means we can support children of all abilities and we always begin with a free educational assessment. Our educational programmes are  tailored to meet the needs of every child.
You won't find a tuition provider like us.
We celebrate the achievements of every child, without comparing them with other students, year groups or levels.
We only tutor in small, peer matched ability groups which is a proven and powerful way to accelerate learning development. Students benefit from increased confidence in a dynamic, interactive learning environment, which is very different to the school classroom.
Our educational programmes are designed to prepare your child for every stage in their education, from primary years through to GCSE. We are experts in tutoring for 4 Plus, 7 Plus, 11 Plus and 13 Plus and SATs.
Over the past fifteen years, we have developed an unrivalled 11 Plus tuition programme that is tailored to suit the local schools in your area. Our two term transformational programme will ensure your child is ready to sit some of London's most well known competitive academic examinations, with their results enabling them to gaining entry to London's most sought after academic secondary schools, including:
Mill Hill County High School

Queen Elizabeth's Grammar School

St Michael's Catholic Grammar School

The Henrietta Barnett School

The Latymer School

Dame Alice Owen's School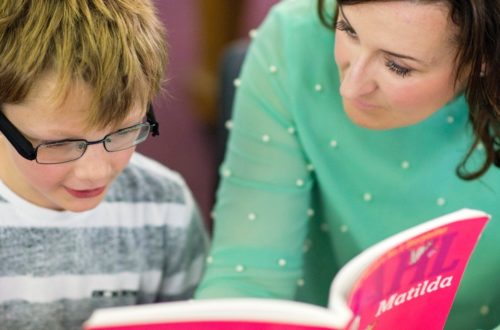 Every Vaks tutoring programme is aligned to the national curriculum and our outstanding pass rates speak for themselves.
We want every child to reach their absolute full potential and to do their very best in school. Vaks tuition is the best possible support to ensuring your child's journey into grammar or independent school is as stress free as possible, delivering a successful outcome.
How it works
1. Free Educational Assessment From the outset, our qualified and experienced team will conduct an educational assessment of your child. We assess their personality, their general confidence as a learner and their overall attitude towards school. More info on assessments here
2. Parent Feedback Parents are given extensive feedback within 24 hours, along with our proposed plan for each child's programme for when they join VAKS. Parents always tell us how this is a unique perspective of their child. You wont get this level of service anywhere else.
3. Tailored Tutoring Our tutors' main goals are to improve your child's confidence and make learning engaging and fun to help all pupils to reach their full potential. Children attend the learning centre on a weekly basis and complete homework relating to lessons taught.
4. Reporting progress Each session is recorded and tracked via our parent portal system. Parents can see at a glance termly objectives, what their child has learned on a weekly basis and what areas of homework needs revisiting. It's a partnerships approach
What's included? EVERYTHING!
FREE Homework Club (Before / after every session – More info here)
Marking & reviewing homework
Marking & reviewing exam papers
On demand parent to parent support
No fixed contracts
Affordable monthly memberships
No computers
No dull worksheets
Direct access to our expert professional knowledge
Expert School advice – 20 years worth of experience
🙋‍♀️
Have any questions? We're human!
Book a FREE assessment
The Vaks tutoring method
At Vaks, we offer expert tuition for every learning stage, subject and ability via our unique tutoring method which incorporates:
Visual
learning through seeing
Auditory
learning through listening
Kinesthetic
learning through moving, doing and touching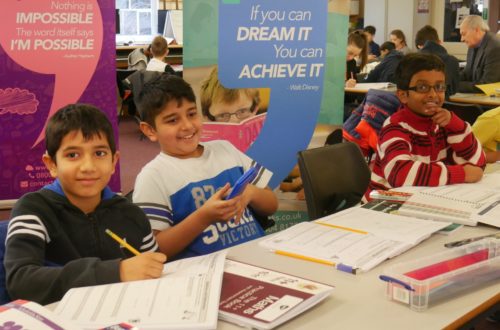 North Finchley tutors
Our North Finchley private tutors interact with children throughout the entire learning process. Our team simply love to teach and this passion creates a positive environment in which children can succeed and become confident learners.
The individual focus on your child means that they receive the highest level of attention and nurturing in comparison to a large classroom environment at school. This is why children love coming to Vaks.
All Vaks tutors at our North Finchley tuition centre are enhanced DBS checked, with these checks continually updated.